Leather Watch Band For Apple Watches
Leather Watch Band For Apple Watches
Apple watches are one of the hottest devices on the market. Today, it seems everywhere you look, and someone is wearing one of these high-tech devices. While these amazing watches provides you with features other watches can't offer, the original wristband it's sold with isn't necessarily the most aesthetically pleasing. A high-quality wrist-band that also suits your personality is what should house your apple smart watch. Oftentimes, changeable watch bands are low quality. Finding a watch brand made with high-quality materials is essential in finding a band that will not only fit your style but withstand any wear and tears it may go through. Luckily, Ritche Watch Bands has a variety of top-of-the-line wristbands for your apple watch device. Each band is designed to be compatible with series 1 – 7 and SE.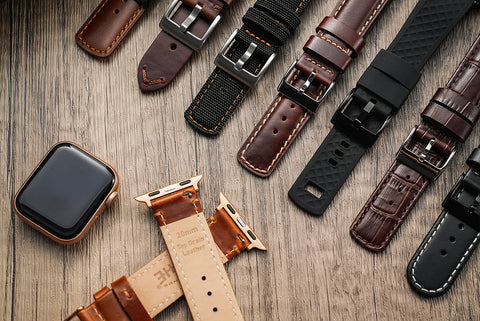 Ritche Watch Bands offers a variety of watch band materials, such as silicone, canvas, and leather. Their leather band selection is vast and comes in a variety of styles and colors to best fit your needs. Whether you're a man or woman, Ritche Watch Bands has an option for you. A watch band is an important accessory for a watch. It helps keep the watch in place and can also enhance its look. There are many types of watch bands, each with its advantages and disadvantages. Leather bands are popular because they are durable and look good with both casual and dressy outfits.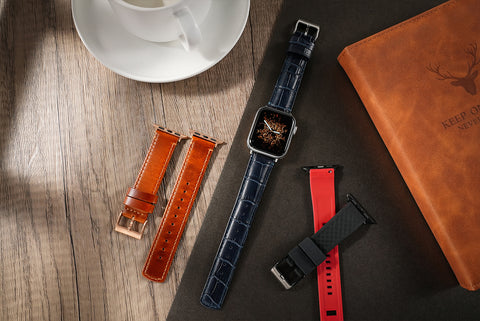 The Ritche Black Leather Bands are a sophisticated look that will enhance the overall appearance of your apple watch. This band is made of top-grain leather that easily fits around any wrist. The Crocodile/Alligator leather creates a unique band that gives your watch characteristic and personality. If you're someone that enjoys matching their band with their outfit, these apple watch bands can be easily changed using its quick-release function. Ritche Watch Bands offers this leather band in a variety of colors. Their black variety is sleek and elegant. They offer two brown varieties, light and dark brown, that can interchangeably be both casual and business. Lastly, this band comes in navy blue leather that would pair well with denim lovers.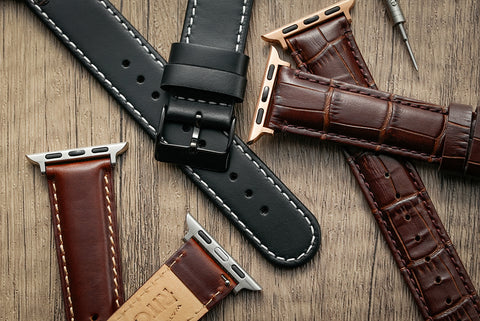 Ritche's bands are unisex and have size options available. These bands also make the perfect gift for father's day, birthdays, or any special occasion. You also have the option to choose your band size. Ritche offers a small and large band to accommodate everyone. Each of these bands also comes with a customizable buckle, giving you the option to choose between a matte black or silver. You can also save when you purchase a watch band bundle. There is a selection of bundles to choose from that combine both leather and silicone varieties. Do you like to have a variety of wristbands? Or, are you looking for a gift for multiple people? Solve your problem by purchasing one of Ritche Watch  Bands' bundle sets.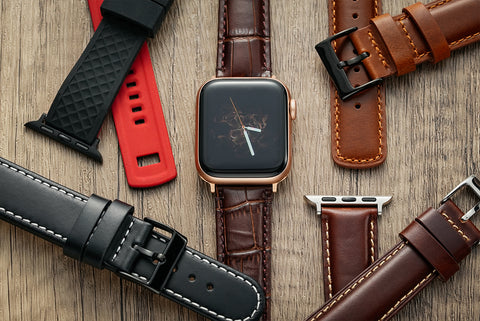 These are the perfect addition to personalize your apple watch. Regardless of your preference or style, Ritche Watch Bands has a style for you.