Ritche Canvas Watch Bands
Ritche Canvas Watch Bands
Ritche canvas watch bands
Why am I been invited?
I was asked to test a Ritchie Canvas Bands a while back. It was not my first watch band from them, and there has many since then, of various materials and styles. So why was I so excited about testing this particular one.Well first I want to tell you that I am a watch collector, and one that believes that a change of a simple band can really change the look of a watch, even its vibe to some extent. I have had dress watches that I have taken off the factory leather strap and put something totally out of left on it. It really gives it an almost new watch feeling.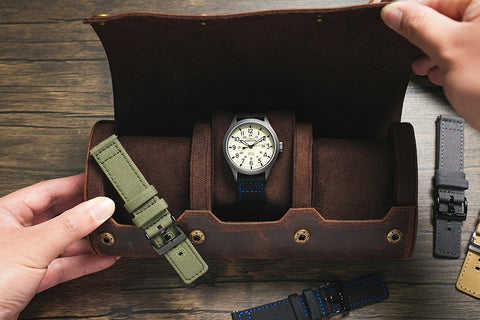 Back to this particular canvas band,I first tried it out a field watch that I had. I felt the watch was certainly tougher than the strap that came on it. I am a guy that believes that putting a very durably strap on a good field watch almost makes it indestructible combination. I wore that watch with the Ritchie Canvas strap on several outings, just to see if the watch and the strap could take the abuse, that I thought they could take. They did to say the least. The strap feels and wears incredibly well. Its break in period was amazingly short. I mean it felt like I had been wearing it for quite a while, with only a few outings. It has been almost a year now, and it looks as good as they day I put it on.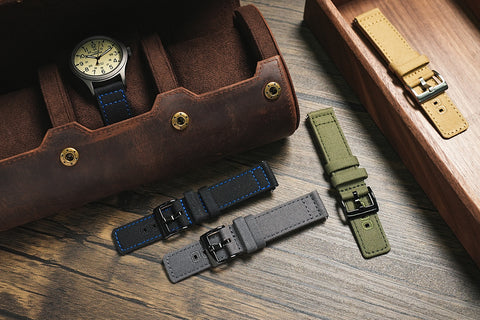 When it gets dirty or sweat soaked, I just took it off they watch and threw it in the laundry (I didn't put it in the dryer); cleaned the watch up and put it right back on the watch, just like new. Their bands are not only comfortable, but also durable and most importantly, they are a quality product, I feel they are straps that are well over their meager price. Lots of band for the buck, so to speak. Especially this canvas strap. It is just super tough, no if and or butts about it. I also have another canvas strap on a dive watch, and its even more impressive on a diver, due to durability, flex, and style.
I, myself, prefer a dive watch on canvas over the typical factory rubber, just my humble opinion. I have even seen people put a NATO strap on some very highend watches, and it just flat out works. Honestly, I now prefer a NATO on most of my watches, but please do not hesitate to look at their wide range of tyles, and material choices. With their choices for material and colors on NATO's, the combinations are endless. P.S. Try something new. Take that old watch that does not get much wrist time, throw a Ritchie Canvas on it and be amazed that it now has a totally new appeal, and the only problem you will have is your regulars will be jealous, for not getting as much one on one time with you like they used to. -GG